Giliker Flynn Newsletter – Autumn 2019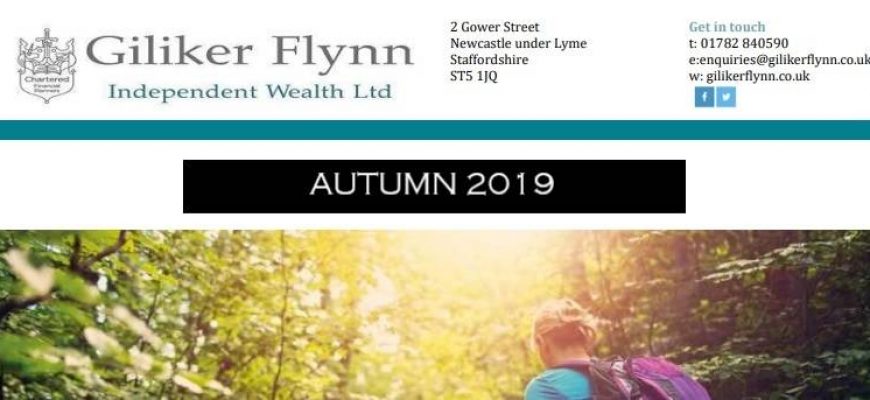 Giliker Flynn Newsletter – Autumn 2019
Welcome to the Giliker Flynn newsletter for Autumn 2019.
Features in the newsletter include different types of investing, which include ethical, sustainable and impact investing and how we as Financial Advisors expect them to perform.
Articles Included Cover the Following –
Partnerships are vital in business, so we look at the value of protecting your partnership in case of the death of one partner.
With trade wars continuing between the US and China, plus tension around Brexit the markets have been volatile over the past few months. Private investors have unsurprisingly become more nervous, so here we offer financial advice on how to deal with either situation.
Planning your retirement is a worthwhile exercise, with cash-flow modelling the key to making the right decisions with your pension.
There have been changes to inheritance tax rules that could alter your estate planning, here we explain those changes and simplified terms.
Currency risk means your ISA, GIA, or Pension Fund could be invested in oversea assets but the value of the sterling could significantly impact on your returns. We offer some clarity on this in the newsletter.
The popularity of income drawdown continues to grow, with significant risks to consider. Our Financial Advisors offer tips on how to combat the risks.
What impact does inflation have on your savings and investments?
Read the full articles in the Giliker-Flynn-Autumn-2019-Newsletter
Want to Know More? Get in Touch
If you have any questions about any of the topics covered in our newsletter, please contact us today.